Lynne Fisher, of animal care business insurer, Cliverton, casts her expert eye over a subject that is particularly pertinent in these challenging times.
The UK is indeed a nation of dog lovers, in fact there are more than 13 million dogs in homes across the country.
Considered part of the family, dogs inspire much love and affection in owners keen to ensure they have as happy a life as possible.
It's little wonder that when owners need to temporarily place them in boarding kennels, due to holidays or other commitments, it can be an emotional time.
They need to be certain that the kennel of their choosing will offer the same level of care and attention that they do. But finding a business they can trust isn't always easy.
In a crowded market, kennel businesses of repute need to stand out for all the right reasons, and there are a number of actions that can help them achieve it.
Go above and beyond
Becoming a member of the Pet Industry Federation, or the Association of Licenced Kennels and Catteries, is an indicator that a business is focused on continually raising standards.
Many businesses are diversifying and including additional services such as grooming, training, micro-chipping and retail sales. Positioning your business as a 'one-stop' shop not only offers time-poor dog owners convenience, it demonstrates an appealingly holistic approach.
The bond absent owners have with their pet should never be underestimated. Nor should it be forgotten that separation can bring an emotional void, or feelings of guilt.
Sending photographs or videos of their dog enjoying their 'holiday,' is another way your business can go that extra mile. A business that is thoughtful enough to show empathy, is a business that is more likely to get repeat custom.
Offering an elite service option can further attract clients. For those who believe nothing is too good for their pet dog, designer dog hotels with themed rooms, special menus and music or television available, can create good business traction.
Secure star quality
In a competitive sector, quality standards can differentiate your business from others.
All kennels are required by law to meet a specific set of requirements in order to be granted a local authority licence to operate.
Meeting the minimum standards is enough to gain a licence, but kennels that meet the higher standards obtain a higher star rating.
To achieve five-star higher standards rating, a business must meet all the required higher standards, and 50 per cent of the optional higher standards.
It's the difference between sending a pet to a five-star hotel and a three-star hotel.
There can be variation in licensing requirements between councils, so it is important to consult your local authority.
Promote a positive profile
Reputation is everything and care should be taken to maximise awareness of customers' positive experiences.
Client reviews and testimonials are extremely effective and should be publicised. Shout about your successes!
Feedback should be encouraged, and any critical comments should be addressed immediately – and publicly. A business that shows it is happy to acknowledge any mistakes and respond positively to problems and suggestions is a business that will be regarded as having integrity.
An out-of-date website does not invite customer confidence. Ensure it is up-to-date and also offers pertinent and topical information about relevant dog care news. Features that will appeal to dog owners could also enhance your website.
Don't cut corners
The challenges of the ongoing 'cost of living' crisis may cause some business owners to examine where they can make savings.
However desperate the financial situation is, neglecting insurance is simply not an option. One catastrophe can result in personal bankruptcy and the loss of the business.
But even cutting some corners on insurance can have a disastrous impact, leaving you without comprehensive cover and the risk of claims not being paid in full, and policies voided from inception.
Public Liability insurance is essential. It covers legal liability for injuries caused to a third party or damage of their property due to your negligence.
Employers' Liability Insurance is also a legal requirement for all staff, either paid or unpaid, apart from relatives.
There are a number of other important insurance policies that, although not essential, hold considerable value:
Care, Custody and Control – cover for the animal themselves if injured due to your negligence. For instance, if a gate is left open a dog could escape and cause a car accident, potentially resulting in an injured dog, an injured driver and a damaged vehicle.
Non-Negligent Vet fee – cover if something happens to a boarded animal that is not your fault you can choose whether to claim for the vet fees or not. For example, a dog becomes ill whilst in your care and you don't want to pass the bill to the owner.
Property Damage – cover for commercial premises e.g. pens, bedding, equipment, small tools, laptops and computers etc.
Business Interruption – cover for loss of income as a result of being unable to trade due to an insured peril damaging commercial building, such as fire or flooding. It is important to note that the building itself must be insured.
Professional Indemnity – available where written advice is provided in return for a fee and as a result the client suffers a financial loss.
To avoid the pitfalls, and before making any decisions, it is important to seek advice from a specialist and experienced insurer.
Discerning dog owners want the best for their pet and will deliberate over what a boarding kennel can offer.
Cost is obviously a consideration during the current economic climate, but by being proactive about their strengths, businesses can offer peace of mind for prospective customers.
A happy dog means a happy owner, and a happy owner means repeat business.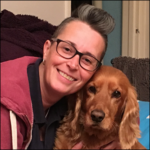 Lynne Fisher DMU(AMS), ACII, ACIM, Chartered Insurance Broker, Associate Director at Cliverton.
Lynne has had a long and varied career spanning over 35 years within the insurance industry both as an insurer and insurance broker, with experience in general insurance, underwriting, claims handling, actuarial, account handling and marketing roles.
In what little spare time she has Lynne is an avid animal lover and is not averse to reading a good book with a cup of tea.